The Magnolia School
The Magnolia School in Jefferson, LA is a non-profit organization offering support and services to adults with intellectual and other disabilities. The schools largest program is the vocational day services which help clients through learning job skills, volunteering, and supported employment.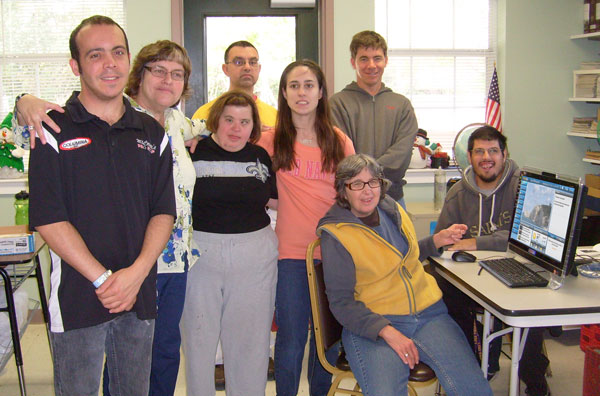 Allister Mckinnel is a vocational trainer at the school, who teaches about 235 adults age 21-82. In the nomination letter, Allister explained how many of his students struggle with using a mouse and keyboard on traditional computers. Students at the school utilize computers in many different ways. The school has a horticulture therapy garden in which the students will often find different plants and insects that they then want to research. Some of the students are also very artistic and would like to be able to paint and draw on the computer, but the mouse makes that very difficult. The Telikins touch screen and structured interface will make all these things easier for the students.
Congratulations to the Magnolia School and thank you Allister for the nomination!
(In the photo at the right, students at The Magnolia School pose with their new Telikin)
Assisi Homes of Kenosha
Assisi Homes of Kenosha is an independent living facility, home to 60 residents ranging in age from 62 to 100 who are low-income.
Lizabeth Rogge is the Resident Service Coordinator at Assisi Homes. She nominated her community for Telikin Cares because the community doesnt have a public computer and most residents cannot afford one of their own. Many of the residents in the community rely on food stamps and food pantries for their groceries, so a computer is just not a luxury available to them. Many of the residents families live out of state, and they desire a way to stay in touch with them, so Lizabeth wanted to give the residents a way to do that. She envisions using Telikin as a non-threatening approach to using computers, teaching them email, Skype, and brain challenge games so that they can stay in touch and keep their minds active. Volunteers will teach the residents how to use the Telikin so that they can start enjoying all the benefits of computing!
Congratulations to Assisi Homes and a big thank you to Lizabeth for the nomination!
Abes Garden Park Manor
Park Manor is a 114 resident Independent Living Community owned by the not-for-profit organization, Abes Garden.
Judy Given, Director of Campus Development, got to see Telikin first hand at the LeadingAge Annual Meeting and Expo in October 2013, and once she saw Telikin in action, she knew that the her residents would benefit so much from this computer.
The community did not have any publically accessible computers for use, and only a handful of residents had their own. Residents began expressing an interest in using computers to stay in touch with family and to help stave off further memory decline. Judy explained that staff at Park Manor had tried to teach residents how to use traditional computers before, but the residents struggled with concepts such as cursors clicking and double-clicking, so they were never able to get very far.
In her nomination letter, Judy wrote to us, We are so excited about the prospect of providing our residents with an easy-to-use computer so they can access their families, entertainment, and have the experience of self-reliance in using a computer.
Now, Judy foresees the Telikin to be a very popular thing among the residents, as they begin to explore the endless possibilities that it offers from communicating with family, to staying entertained, to helping improve their memory.
Congratulations to Park Manor and thank you Judy for the nomination!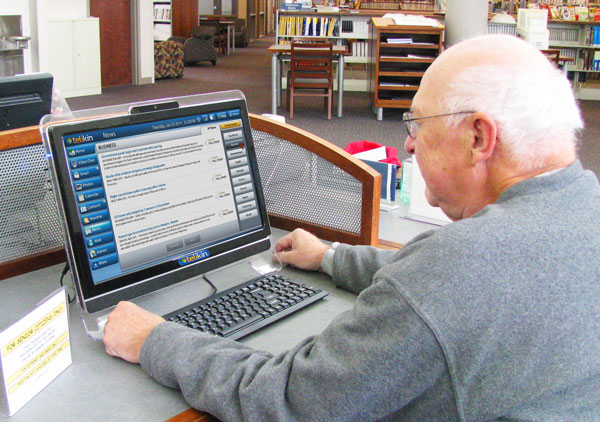 Menomonee Falls Public Library
Menomonee Falls Public Library in Menomonee Falls, Wisconsin serves about 250-400 senior citizens every day. In addition to books, the library offers them classes of all kinds, including computer classes. Gary Finch, the IT Assistant, nominated the library for Telikin Cares because he thought that the Telikin computer would be a great addition to their offering. In the past, some of the seniors who came to the classes had difficulty with traditional computers because of decreased vision and mobility in their hands. The touchscreen interface makes Telikin a much more accessible device for seniors to access the weather, web, and news.
The librarys senior patrons will now have access to a computer that is specifically for them! Gary also plans to use the Telikin when teaching computer courses to let seniors know that there is a different kind of device made just for them.
Congratulations to Menomonee Falls and thank you to Gary for nominating the library!
(In the picture at the left, a library patron checks the local weather on the Telikin)