Cedarbrook Fountain Hill Nursing Home
Zulma Alvarez, a volunteer and daughter of a resident at Cedarbrook Fountain Hill Nursing Home, wrote: "I am a volunteer at Cedarbrook Fountain Hill Nursing Home, Bethlehem, PA, where my mother has been a resident in the dementia unit for the past three years. On behalf of the 197 residents who now share one computer which uses a keyboard and mouse, I am requesting a Telikin Touch. Many of the residents, because of arthritis, limited eyesight, or lack of dexterity find it very intimidating and challenging to use the computer. Cedarbrook is a county facility that uses its tight budget toward excellent quality care, but has limited funds available for anything extra.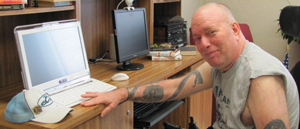 A Telikin Touch computer would allow many more residents to stay in contact with the siblings, friends and especially grandchildren with the webcam/email options and stay current with world news. And especially for those with the dementia, the Telekin Touch is a wonderful tool to assist them in maintaining more of the cognitive abilities or reminisce to the past through old time favorite music or movies. As I watch the residents, I see them thrive when they can maintain a level of independence and have the ability to learn something new. The Telikin Touch will provide them with this opportunity. They also value connection, because their world has become smaller after moving into the skilled nursing facility. In short, I believe the residents at Cedarbrook would benefit from a Telikin Touch The ease of use which increases the level of mastery and independence Being in touch with family, friends and the world at large with the touch of a finger Listening to favorite music or watching a favorite show Strengthening memory with various games Thank you for your generosity in considering gifting a Telikin Touch to the Cedarbrook Fountain Hill Nursing Home."
Grace Village in Winona Lake, Indiana
Paula Ibach, a library volunteer, wrote: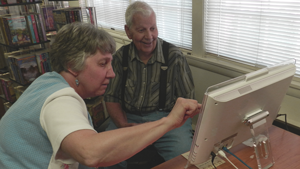 "Have you ever watched the excitement fade out of the eyes of 80- and 90-year-olds who dreamed and hoped to use email and Facebook to communicate with their loved ones? I recently tried to teach about a dozen Grace Village residents to use computers in the GV library. I was touched by their desire to learn, but disheartened to see how unsteady hands struggled to use a mouse and how befuddled they were to navigate Windows or dialog boxes. I wished for a touch-screen monitor during those sessions, but then realized the frustration of using Windows would still be there. Most of them gave up. And these had been the ones brave enough to try; imagine the ensuing conversations with the more timid residents. Then I heard about Telikin. Large print and easy navigation buttons sounded wonderful along with the touch screen. And video chatting! However, the library has no budgeted funds for such a purchase. As a volunteer who with another person has input over 1500 titles into a web-based catalog (the library had no catalog), I am discouraged to see the very residents who would use the catalog decide that using a computer is too hard. The motivation to continue inputting the 1600 or so remaining titles is challenged by the lack of a usable access means for these users. A Telikin would allow the residents to better utilize the library books as well as get on the internet to research health issues and keep up with current events. It would be an encouragement to the volunteers who are trying to improve the situation of these senior citizens. Would you put a smile on our faces again by providing us with a Telikin computer thru your Telikin Cares program? It would be so appreciated by the nearly 300 residents of Grace Village."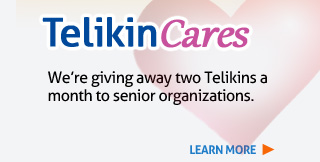 We are so happy to be able to donate a Telikin to Cedarbrook Fountain Hill Nursing Home and to Grace Village. Congratulations to them again!