Sharon Whalen is the technology associate for Lutheran SeniorLife which is a faith-based ministry helping seniors live a full and abundant life in a setting that promotes wellness and independence. They recently launched a new program, My Day Out, at their Passavant Campus. This program will provide support to family members caring for loved ones, who will enjoy a respite while My Day Out participants enjoy a day of fellowship and activities.
Sharon wrote,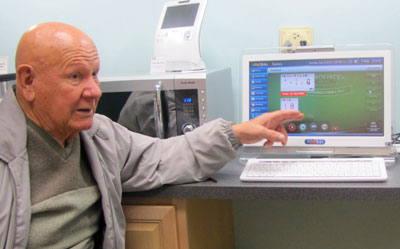 One of the goals of our technology initiative is to help our residents remain engaged and active as well as staying connected to the people and things they love the most. The Telikin computer is a perfect match for our goals and our special participants in the My Day Out Program. With the support of the program director and dedicated volunteers, participants will be able to be more actively engaged and connected. The games available will help to sharpen cognitive thinking skills and increase group involvement and team work. News and current event discussions will keep them updated and relevant and music has proven to have a calming effect if someone becomes frustrated or confused. Telikin will also give group members a chance to stay connected with family through email and video chatting, which is an incredible gift to a senior unable travel to see family and friends. Additionally, virtual travel and Google earth will allow the group to take trips without ever leaving campus! The list of activities that we can access to benefit our seniors with the Telikin can only continue to grow.
It would be a delight and inspiration to see the members of My Day Out using a computer to remain involved in activities and connected to the people they love.
In the photo, Mr. Grinnik, a My Day Out program participant, enjoys playing games on the Telikin. He was amazed at how easy it is to use!