Both Meadowlark Hills and the Monroe County Library System recognize the benefits of teaching older adults technology skills and a senior computer.
Telikin Cares Recipient Meadowlark Hills Community
Meadowlark Hill is a non-profit, continuing care retirement community in Manhattan, KS, whose main objective is quality of life for every resident and guest.
By focusing on residents, they are able to provide seamless care along the spectrum from independent living through skilled nursing. The Wellness program works with each resident to strengthen the ten pillars of personal wellness: physical, spiritual, emotional, environmental, stewardship, social, financial, intellectual, occupational, and cultural.
Garrett Lee leads the Wellness program at Meadowlark Hills. He sees how technology can enhance the lives of residents by encouraging lifelong learning, increasing communication and engagement with the community, and building a strong feeling of connectedness with family and friends.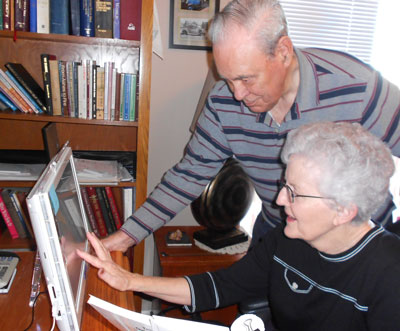 Mr. Lee recognized the possibilities that Telikin holds for the residents. He wrote to us:
Creating easy computer navigation for residents like Don, age 71, avid fisherman and Parkinsons program participant, is a major accomplishment in maintaining independence. Virginia is a lifelong community philanthropist and currently a resident in a skilled nursing household. At the age of 95, having technology and staff available helps her stay vital and involved with charities and organizations she holds close to her heart and contributes to her sense of vitality. She is able to participate despite her limited mobility. John, age 89, widower and father whose only son lives over 1,000 miles away, will be able to stay in touch with his grandchildren and great grandchildren scattered throughout the east coast. He will no longer feel so far away. These are just a few of our nearly 400 residents and their families who will benefit from a technology center at Meadowlark Hills. Telikin uses elder friendly technology and navigation tools that are perfect to help us accomplish our mission.
Congratulations to Meadowlark Hills, and a special thanks to Garrett Lee for nominating this community! In the photo, two residents set up their new Telikin to begin piloting the computer.
For more information about Meadowlark Hills, you can visit their website, www.Meadowlark.org.
Telikin Cares Recipient Monroe County Library System
Monroe County Library is a free public library whose mission is to meet the individual and common needs of all the people of Monroe County, Michigan for on-going access to information within the full scope of recorded human expression. With 16 different branch locations, the library serves the entire population of the county, 26% of which are seniors.
In addition to other services, such as a senior outreach delivery vehicle, the library offers computer classes for seniors. These classes cover a range of topics from beginner basics (including mouse aerobics) to more advanced programs. However, Rachel Braden, Head of Technology for the library, notices that most of the seniors are looking for an easier answer than the traditional computer with a keyboard and mouse.
When nominating the library to recieve an 18" Telikin Touch computer, Rachel wrote,
The interface of the Telikin looks like it would be a welcomed addition to our community, offering our residents the ability to send an email to their grandchild or view a picture from a family member without the need to learn to use a mouse or Windows.
The variety and consistency of computer classes at the library evidences its commitment to helping seniors get on the computer and online, which is why were excited to donate one of our 18.6 Telikin Touch computers!
Congratulations to the Monroe County Library!
For more information about the Monroe County Library System, visit their website, www.monroe.lib.mi.us.